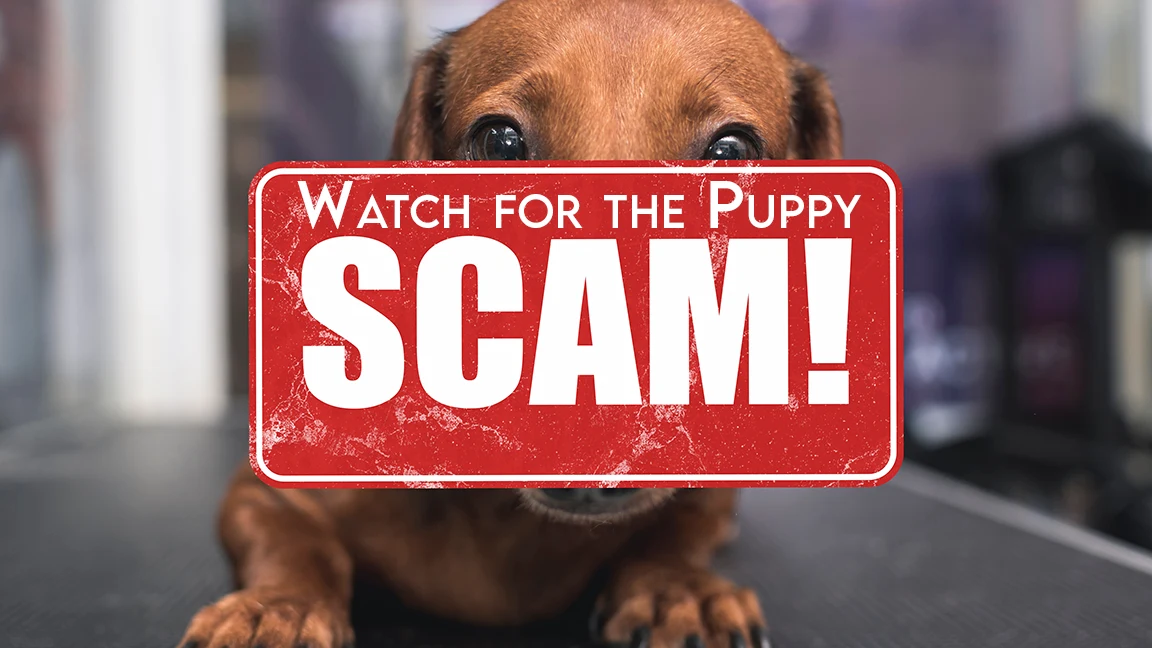 21 Ways to Avoid Puppy Scammers!
Adding a new member to your family in the form of a puppy is super exciting, but it can also be confusing and stressful. There are many ways that unscrupulous people try to take advantage of people looking for a dog. A popular avenue is through puppy mills where countless litters are created in unsanitary and cramped conditions with little regard to the health and welfare of the parent dogs and their puppies. Profit is the goal and poorly socialized puppies from parent dogs with no health certifications typically end up costing unsuspecting families lots of money and heartache.
However, since it is becoming more popular to browse for a dog online, internet puppy scams are becoming more common. It is very convenient for breeders to be able to post their litters online with pictures and other information. Internet puppy scammers post litters of puppies that are "for sale", but the problem is that the photos are stolen off reputable breeders' websites. These scammers then solicit buyers, collect deposits, and then conveniently disappear by the time the puppies should be ready to be picked up by their unsuspecting new families. This tactic deceives many people and causes them an immense amount of emotional and financial troubles. 
I have found photos of my litters on other websites in the past.  These websites copied not only photos of puppies for sale, but educational information as well to make their websites look more legit.  The info they copied and pasted without permission even had mention of Fox Creek Farm, so a savvy shopper would have noticed it was a scammer.  However, those in the shopping mode may be so enthralled with the cute puppy photos and miss this obvious misstep by the scammer.  
On other occasions, I have had desperate families reach out in hopes of securing a puppy immediately because they were scammed.  Their children were expecting a puppy and in an effort to remedy their error in dealing with a scammer, they need a "substitute" puppy to purchase.  This is always such an emotional time because these families have not only lost money, they feel they have let their children down.
21 Tips To Avoid Internet Puppy Scams
Being knowledgeable about buying a dog before doing so is essential to avoid being scammed. There are many red flags of which to be aware to avoid being scammed. Researching the process allows you to be prepared when the time comes to buy a new furry friend. 
Be aware. If you are reading this article you are one step ahead of avoiding a puppy scam. Just being aware that puppy scams exist and that it is a possible risk when buying your next dog is a great first step. 
Do not be afraid to ask a lot of questions. A legitimate breeder will welcome your questions and provide resources and information to help you throughout your puppy purchasing process.
Check puppy scammer lists for the current year. Previously scammed individuals have created spaces where people can report puppy scams. This allows people looking for a reliable breeder to have access to a list of previous scammers posing as breeders. One list that provides an extensive amount of scammer breeder websites can be found here

. Keep in mind that scammers consistently change names and website domains.

Look up reviews or ask for references. Most reliable breeders will have some sort of reviews or testimonials

listed on their website. This shows that previous buyers had a good experience with the breeder. However, this can also be a fabrication, so don't rely on this exclusively. Google reviews are a great place to start. Another place is to communicate on the Facebook group or page for that "breeder" asking for references.

Look for a professional website. Well-known and well-respected breeders will have professional and informational websites. These websites may include information about the parent dogs, health and genetic testing

, training, warranties for your puppy, and more. Keep in mind though that scammers can have professional looking websites too.

Do not send money prior to confirming the breeder is legitimate. Ask for photos of both parents as well as view their individual health testing results and registration papers. The health testing certifications and registration certificate should include the name and address of the breeder. If the payment requested is to a different name or address, this is a red flag. 
Be wary of the form of payment being requested. Legitimate breeders will likely ask to be paid by cash in person, personal check, Zelle, Venmo, or PayPal. Scammers will ask for payments via Western Union banks, ATM cards, or money orders. 
Search on Good Dog.com.  Good Dog has a collection of puppies for sale from responsible and legitimate breeders. This gives you access to an extensive list of breeders from which you can choose. You can search for a specific breed as well as narrow your search to general locations. Good Dog also shows expected prices for specific breeds, so anything less could be a scam. Scammers like to attract people to buy from them by offering lower prices than other breeders. However, as the saying goes, if it is too good to be true, it likely is not true. 
If searching for a Goldendoodle, utilize the list of proven breeders on the Goldendoodle Association of North America, Inc.'s (GANA) website.
Reverse image search photos that are being advertised with puppies for sale. Some scammers may use generic puppy photos from the internet to advertise the "puppies" that are for sale. Google has a feature that allows you to search for an image to see if it has been used on the internet previously. This feature could be useful to determine if the breeder is using images that do not belong to them indicating they are trying to scam people. 
Avoid puppy mills. Puppy mills are facilities that produce as many puppies as possible without concern for things such as cleanliness, adequate space, human interaction with the puppies, or appropriate health testing certifications on the parent dogs. It is common for puppy mills to dispose of adult dogs that are no longer producing an income for them by dropping them at shelters or even euthanizing them. Fox Creek Farms has a blog about how to avoid puppy mills

that could be a useful resource for making sure you are buying from an ethical breeder. 

Avoid backyard breeders. Backyard breeders tend to be those who have no education of responsible breeding practices and utilize family pets to create an extra income source.  Many times, they breed their dog to the neighbor's dog without regard to health, temperament, or structure.  When asked about the health certifications on the parent dogs, a typical response is that the dogs have been very healthy and have seen a vet recently. These responses are not necessarily deceitful, but instead made out of ignorance since formal health certifications can expose health concerns not visible to the naked eye.  Many inheritable diseases in dogs can be avoided with a simple DNA test. Issues such as hip or elbow dysplasia or congenital eye diseases require an exam or x-ray by a specialist.
Ask someone to help you check for scammers. Having a second opinion is always helpful. You can ask a friend, coworker, or family member to take a look at the breeders' website and any communication you have had with them to see if they think the breeder is legitimate. This allows you to be more confident about your choice of breeder and could prevent you from buying from a scammer.
If the "breeder" only prefers to discuss with you over email, try to have a conversation with them over a phone call or video chat.
If the puppies are advertised as super discounted, it could be a sign of a scam. Watch out for discounted puppies, as reliable breeders typically will not discount their dogs. If it is too good to be true, then it is, as most puppy scammers hope to entice people with their cheaper prices in comparison to other breeders. 
Look out for the use of improper English as many scammers reside outside the USA.  Scammers may have phrases in English to copy and paste as answers to typical questions.  When your questions vary from the typical questions asked, the scammer will give a completely inappropriate response or will not respond at all.
Be careful with people rushing you into the purchase. Reliable breeders will try to make sure that you get a dog that is a good fit for your family. A reliable breeder will never try to rush you into your purchase as they want the puppy and the family to be a good fit for each other.
Ask for more pictures and videos. There can be some uncertainty about whether the photos they have sent you are theirs or if they are straight from the internet. To avoid this, ask for some more pictures and videos to get more perspectives on whether the puppy pictures are legitimate or not. You could simply ask for a video of the puppy playing and that could ease your mind a bit about whether the dog is real. 
Note the background in photos of individual puppies.  Most breeders will use a similar background to photograph each individual puppy in the litter.  When you see completely different backgrounds for each puppy, it is likely because the photos were stolen from multiple websites to provide a good selection of "available" puppies for which deposits are being accepted.
If the puppies showcased on the website are a few weeks old, ask for photos of the same puppies from birth.  If no younger photos are available, they likely did not have those puppies in their possession when they were younger. 
Buy from Fox Creek Farm. Fox Creek Farm is a reliable Goldendoodle, Bernedoodle, and Golden Mt. Doodle Breeder. Fox Creek Farm dogs are health tested and DNA tested for diseases prevalent in Goldendoodles and Bernedoodles. Their puppies are guaranteed against genetic defects for up to four years and their Goldendoodles are registered with the Goldendoodle Association of North America, Inc. As one of the founding breeders of the Goldendoodle and the creator of the mini Goldendoodle, Fox Creek Farm has a long history of producing top quality puppies.  A quarter of a century in business proves a quality reputation with customers returning to buy their second, third, fourth, and even fifth puppy from this same breeder.
What To Do If You Think You Have Been Scammed
Even if you did diligent research on how to avoid internet puppy scams, you can still fall victim to the scams. If you have been scammed, you may feel sad, angry, confused, etc. but you may also wonder what to do next.
First, of course, you want to try to get your money back. One way you could do that is by stopping the fund transfer if possible. If you paid via a banking service, you could request to cancel your payment. However, these steps are only possible if you realize within the first 24 hours or so that you have been scammed. Most don't realize they have been scammed until the fictional puppies are 8 weeks old and ready to be picked up and the "breeder" becomes a ghost.
Gift cards or ATM cards sent to a scammer are much more difficult to cancel or get refunded. A bank is unlikely to refund gift card or ATM card purchases. 
Since scammers also like to use Western Union banks, if your payment was made through Western Union money transfer apps, you could reach out to the company appeals group to see if a refund or purchase reversal is possible. 
After you have attempted to get your money back, you can notify authorities of the scammer. Several organizations record scammers. For example, the Federal Trade Commission ​​uses and shares scam reports with its law enforcement partners to help with investigations. The Better Business Bureau collects reports on fraud, misleading advertisements, and more. The FBI's Internet Crime Complaint Center works to fight against internet crimes. However, many times the scammer does not reside in the USA and these organizations cannot help recover funds sent outside the country.
All of these organizations have links where you can put information about your experience with the scammer to help future buyers avoid a similar experience and to be knowledgeable about the potential scam.
Additionally, if you have the resources, you could file a lawsuit against the scammer. Filing a lawsuit for puppy scamming can be very tricky for many reasons. One reason is that scammers tend to conceal their identity and actual location, which makes notifying the opposing party that they are being sued difficult, which is required to file a lawsuit. 
Being scammed can be a devastating experience since there is so much excitement about getting a puppy not to mention the money being stolen. However, researching how to avoid an internet puppy scam can help you avoid that devastation as the ultimate goal is to end up with a puppy that makes you and your family happy.