Our Bernedoodle Program at Fox Creek Farm
After years of research and planning, we are excited to share with you our upcoming Bernedoodle program! Learn about the breed below:
Health
The BIG question…how is their health? We have worked with thoughtful breeders we love and trust (mostly fellow GANA breeders) to acquire our foundation breeding stock. We have researched their lines and found there are several generations of health tested dogs with great temperaments behind the dogs we've acquired for breeding. We are expecting a lifespan similar to our Goldendoodles (12-15 years on average).
Temperament
So far we are finding the Bernedoodles to be overall calmer and more relaxed than the Goldendoodle. On the other hand, they can be a bit more stubborn.
Ethics
Our Bernedoodle puppies will be raised with the same health testing standards and enrichment protocols as our Goldendoodle puppies. Our Bernedoodles will be fully health tested before breeding with the following health tests:
PennHip at 16 weeks
OFA hip prelims at 12 months
OFA elbows prelims at 12 months
OFA Eyes before breeding and repeated every 2 years
OFA heart & patella finals at 12 months
DNA diseases prevalent in the Bernese Mtn Dog and Poodles
All Bernedoodle puppies will be raised with Puppy Culture, ENS, and our own methods of socialization developed over our years of raising puppies.
Size
Puppies from Clara/Bennett and Tilly/Bennett could be in the 30-40 lb range. Puppies from Minka/Bennett could be in the 40-50 lb range.
Shedding
While we are getting started, we could produce a few puppies that could shed a little. We will only be breeding multigenerational Bernedoodles, but some could only have one copy of furnishings (IC carrier), instead of two. Some puppies who are IC carriers can shed a little as it takes two copies of furnishings to eliminate shedding. They will still shed much, much less than a Bernese Mountain Dog. As we progress in our program, we will soon create non-shedding Bernedoodle puppies. This is a high priority for us.
Pricing
All Bernedoodles puppies are $3,500 regardless of color, size, and generation.
Our Stud
Bennett
Bennett is a traditional tri-colored multigenerational Bernedoodle. He weighs 30 lb. at maturity. You can view Bennett's health testing here.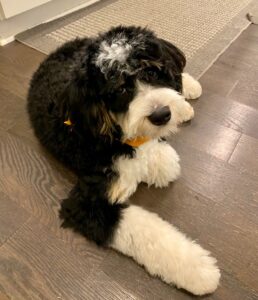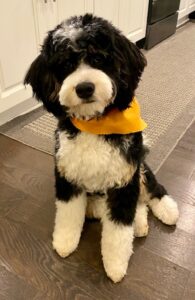 ---
Our Dams
Clara
Clara is a sable tri-colored F1b mini. She currently weighs 35 lbs. You can view Clara's health testing here.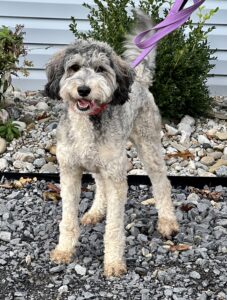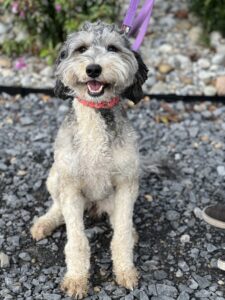 ---
Minka
Minka is a phantom merle multigenerational standard Bernedoodle. She currently weighs 60 lbs. You can view Minka's health testing here.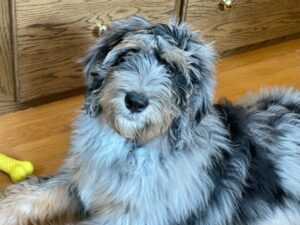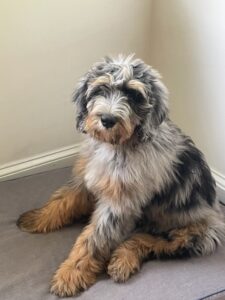 ---
Tilly
Tilly is a sable tri-colored multigenerational medium Bernedoodle. She weighs 37 lbs at maturity. You can see Tilly's health testing here.