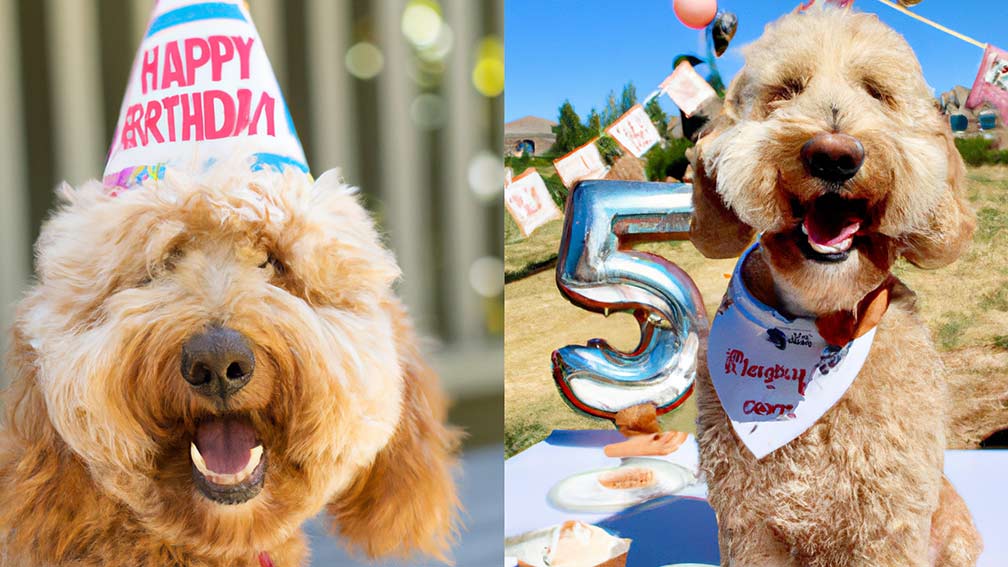 60 Tips for Throwing The Best Dog Birthday Party
Not Just Any Party, A Dog Party!
Yes, This is a thing.
Maybe you're looking to throw an awesome party for your dog or maybe you've never heard of a birthday party for a dog. Either way here is info to help you celebrate your dog's birthday in style! We've got 61 dog birthday party ideas so you can throw your dog a birthday to remember organized by activity ideas, gift ideas, yummy treat options, fun locations, and decoration ideas.
The first few ideas will be activity ideas you could do with your pup:
Doggie salon. Some dogs love to be pampered! You could paint their nails and give their fur a good brush, so they look perfect for their big day. Don't forget the birthday hats!
Doggie fashion show. Have a contest with the nonhuman guests for the best dressed. You can have categories like cutest, most creative, and funniest outfits.
Doggie gift exchange. Have each dog bring a goodie bag or wrapped gift to exchange with other party guests. There will probably be wrapping paper everywhere, but it'd be super cute to see all the dogs unwrap presents.
Sprinklers. Have some of your pup's friends come over and let them run around in the sprinklers. They'll have a blast.!
Doggie art class. Set up some canvases and put your dog to work. Have your dog create their masterpiece with paw prints or by holding a paintbrush in their mouth. (Make sure to use dog-safe paint!)
Outdoor movie night. Set up a movie screen outside and play dog-themed movies like "Togo" or "Max." The dogs will probably spend more time running around than watching the movie, but who knows, maybe they'll love the movie, and be assured, the human guests will enjoy the movie too!
Doggie yoga: Host a yoga session for dogs and their owners to participate together. Some dogs may succeed at copying their owners' poses!
Doggie date. Take 2 doggies on a date! It can be as romantic or unromantic as you'd like, be creative.
Talent show. Maybe you've spent a lot of time teaching your dog some cool tricks and you want to show off. This would be a great way to do so.
Doggie scavenger hunt. Set up a scavenger hunt party game for your dog and the guests to follow with treats and prizes at the end.
Yappy hour. Buy some doggie-safe beer (beef broth) and give the human guests some real beer. This would be especially fun if your dog is named after a type of alcohol like Bud or Miller!
Paw print art. Do a little art date with your dog where you make a clay ornament or a stepping stone with your dog's paw print.
Play frisbee. If your dog loves playing fetch or frisbee, playing with some other doggie friends may make this 10 times more fun.
Agility course. Set up an obstacle course for the dogs to run through and provide prizes for the fastest dog.
Doggie karaoke. Have a karaoke competition with the human guests and see if the dogs will howl along to their favorite songs.
Skateboarding with your pup. Now, this may sound dangerous, but with supervision, it may become a favorite activity. Teaching your dog how to skateboard can be an activity that lasts long after the birthday party.
Stand-up paddle boarding with your dog. This may be one of the more difficult activities on the list because you have to be able to do it too, but if you don't succeed, your party guests will get a good laugh out of it!
Play in the leaves. Most dogs love playing in the leaves, so if your dog has a fall birthday, you could celebrate your dog and get your leaves raked too!
Go on a picnic. Bring some snacks for you and your dog and go on a picnic and a walk.
Kayak with your pup. Grab a doggie life jacket and head to the water. Your pup will have a blast.
Boat ride. Maybe your dog has already ridden in a boat before, but maybe not. If not, make sure to give your pup a little bit of time to adjust to the boat before starting to move. Remember to use a doggie life jacket for your furry friend just in case he decides to go for a swim.
Watch a doggie TV show. If your dog is a little older or just has low energy, maybe your dog would like to watch a show with dogs in it. You could watch the "Puppy Bowl" or "Dog Whisperer."
Have a photoshoot with your pup. Take some adorable pictures of your dog and share them on Facebook. We love seeing all of our cute Goldendoodle puppies all grown up!
Doggie tattoos. Get some stencils of fun things like flowers, hearts, skulls, animals, and more. Then use some doggie-safe hair paint (your groomer will likely have info on this for you) and press the stencil against the dog's fur then spray. This will create a fun "tattoo" on your dog.

Next, we have some gift ideas for your pup
Get a BarkBox subscription. BarkBox sends a package each month with new toys and treats for your dog. This would be a birthday gift that keeps on giving throughout the year.
Buy some new toys. pawTree has a nice selection of soft and hard toys and some are interactive.
A ball launcher. These devices can throw a ball much further than us humans, and since it holds the ball for you, you don't have to grab it when it's returned all muddy or slobbery.
Doggie tunnel. You know those little tunnels a lot of kids have? Look up "toddler fold-up tunnels" and you'll find several options. Scatter treats throughout and they'll have a blast running through it.
Check out our Amazon Wishlist. Grab your dog a toy you think it'll love.
Get a PetSafe Busy Buddy Twist 'n Treat Dog Toy. This toy helps your dog learn to work for food and provides mental stimulation which is super helpful for busy pet parents.
Kiddie pool. If your dog loves the water, get your dog a Kiddie Pool as their birthday gift. Then they can splash around in the water anytime they want.
Kong toys. If your dog is a destructive chewer, get them some Kong toys. They are virtually indestructible.
Get a Hear Doggy Ultrasonic Squeaker Toy. Some dogs love toys that squeak, but it can get kind of annoying for a dog owner. Ultrasonic Squeaker Toys may be the answer. These toys have a squeaker with a frequency between 24 and 28 KHz which is still thrilling to a dog but nearly silent to the human ear.
Get a FurHaven Snuggery Burrow Bed. If your dog loves to cuddle up and burrow in blankets, you could get them a place to cuddle up and call their own. With this dog bed, they'll have a blanket and bed in one.
Get SwimWays Spring Float Paddle Paws. If you have access to a pool, you can get your dog it's very own pool floaty. Check out these pool floaties and throw your dog an awesome pool party.
The next few dog birthday party ideas will be for some yummy treats for your favorite pup.
Steak. Every dog's dream is to eat a piece of steak. For their big day, you can let your dog enjoy a little slice. The humans can celebrate too with a steak dinner!
Go to Dunkin' Donuts or Starbucks for a pup cup. Just remember, he won't let you drive by one of these places without stopping even when it isn't his birthday once he knows they have pup cups!
Gourmet dog treats. Take your pup on a ride to your local dog bakery and get them some fancy, custom-made treats or bake some yourself with treat mixes from PawTree.
Get some PawTree treats. Buy ready-made freeze-dried raw treats from PawTree.
Doggie ice cream. There are a lot of different brands that sell ice cream for dogs. Search the internet or your local pet store for a flavor that your dog will love.
Pelican's pup cups. Pelican's SnoBalls has pup cups for dogs that are either peanut butter or vanilla flavored with a dog treat on top. All dogs love them and it could be the perfect treat.
Pooch cake. There are cake mixes in stores and online that are safe for dogs. We get cakes for our birthdays, why can't our dogs?

Here are some fun locations for your dog's birthday party.
Doggie beach day. Take your dog (and maybe even their friends) to the beach for a day of sun, sand, and water activities.
Dog park. Take your dog to the park, so they can meet new friends and have some fun in the sun!
Go for a hike. Take your dog on a hike and let them sniff around in nature or hop in a stream or waterfall if they like the water.
Stay at a pet-friendly hotel. You could go to the mountains and stay in a cute cabin or hotel with your pup and take them on adventures for a couple of days. It is a great excuse for humans to get away too!
Your local outdoor, dog-friendly outdoor restaurant. Dog-friendly restaurants many times have water bowls, menus, and treats for their dog patrons.
Bring your pup to the Farmer's Market. If your dog loves attention, it'll get all the attention it can imagine at the Farmer's Market and many have homemade dog-related items and treats available.
A dog-friendly pool. If your dog loves the water, you can search for a nearby dog-friendly pool and enjoy some swim time with your pup.
Lastly, here are some adorable party decoration ideas for your pup.
Party hats. If you have a lot of doggie guests at your party, have all of them wear party hats and take some funny pictures!
Party banners with your dog's face on them. Printing a banner with favorite photos of your dog to hang for all the guests to see is fun.
Birthday cake dog hat. There are doggy hats that are plush and look like birthday cakes that make for great photo ops!
Bone-shaped birthday candles. Although your dog may not be able to blow out a candle, you sure can. Bone-shaped candles would fit the dog's birthday party vibe.
Paw print balloons. Balloons come in lots of shapes and sizes. Find those with pawprints or in the shape of a bone.
Have a themed party related to your dog's name. For example, if your dog's name is Nemo, you could have a Finding Nemo-themed party. Or if your dog's name is Sully, you could have a Monsters Inc themed party.
"Let's Pawty" balloon banner. You could put up a banner that says "let's pawty," a cute pun right?
Dog pinata. Fill up a pinata shaped like a dog with some dog treats. Then, you can break it and have the dog party guests go crazy. Be careful that the dogs don't get aggressive around food before you do this.
It's my birthday bandana. Have your dog wear a bandana that says "It's my birthday," so that everyone will know who's the star that day.
Puppy tablecloth. For some extra decor, you could have a tablecloth with some pictures of your dog's breed on it.
Doggie TuTu Skirts. Get your dog and their guests some TuTus. There are lots of different colors to accommodate boys and girls.
Photo booth. You can have a photo booth at your dog's birthday party. Have each dog and guest do photos to remember the big day. You can rent a booth from Loanables.
Celebrating your dog's birthday can be just as fun as celebrating your own. Dogs have fewer birthdays than most humans, so don't miss celebrating a single one. Be sure to use some of these tips to make your dog's next birthday one to remember!