What Is GANA?
The Goldendoodle Association of North America, Inc. (www.GoldendoodleAssociation.com) is a non-profit organization established in January 2009 by Amy Lane of Fox Creek Farm. GANA's primary objective is to guide breeders in the development of the Goldendoodle to the common goal of establishing reliability in coat, type, health, and temperament. GANA is the first and only breed club established for the Goldendoodle. A registry database has been created to document the lineage and only Goldendoodles, Golden Retrievers, and Poodles registered with GANA will produce offspring registrable with GANA. Membership is limited to breeders that provide proof of health clearances achieved on all their breeding stock and that have agreed to a Code of Ethics regarding their breeding practices and the care of their dogs.
What is Good Dog?
Members of Good Dog prioritize the well-being of their dogs above all else. Good Breeders are passionate about the health of their dogs, providing necessary care to give them the best chance at a long and healthy life.
See more about Good Dog's screening standards here: https://www.gooddog.com/standards-and-screening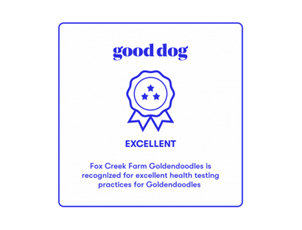 What does 'Scam Free Certified' with TellTail mean?
COVID certainly changed the dog world, and there are plenty of people out there who took advantage of the increased demand for dogs during the pandemic, sadly. The worst of them — scammers.
Scammers have always been a part of the animal industry, but today they are delivering terrifying statistics. According to TellTail's research:
Last year, 35% of all reported online scams in the United States involved a pet transaction.

From 2019-2021, there was a 165% increase in online scams.

The average financial loss for someone scammed is $1000.
With this badge, you can be assured that we have been screened by TellTail to be scam free.