Items to Prepare You For Your Puppy
For your convenience, Fox Creek Farm has put together a clickable list of items you will need to purchase before you bring your puppy home.   If you would like to shop in a brick and mortar store, here is the list of things you should purchase.  Otherwise, click on the links below to purchase the products Fox Creek Farm recommends.
Wire crate with adjustable panel so the crate can grow with your puppy
Crate cover
Crate bed – not to be used for the first few months
Bed for outside the crate
Water bowl
Food bowl
Nylon collar and 6 ft. leash
Retractable leash
Harness
Shampoo
Slicker brush
Metal comb
Waste bag tote and bags
Dental care kit
Nail clippers
Stain and Odor eliminator spray
Ear cleaner
Ear powder
Bitter Apple deterrent spray
At least 5 appropriate toys
Petites-24″ wire crate – crate and cover available in pink, blue or black
Minis-30″ wire crate – crate and cover available in black
Medium-36″ wire crate -crate and cover available in black
Standard-36-42″ wire crate – crate and covere available in black
An adjustable divider is a must and not all crates come with one.
A travel crate (plastic) for car travel and to have an extra crate at home – 18.96″ for micro petites & petites, 24.6″ for minis and mediums, and 28.01″ for standards.
K9 Ballistics dog beds are the toughest ones I have used and may last through your puppy's chewing stage.
2 Bowls for water & food-ceramic is the best for cleaning and not being spilled
Puppy Harness-small for micro petites, petites, & minis, medium for mediums and standards-this is soft and nice for young puppies.
Retractable leash suitable for up to 77 lb. dogs for bathroom outings
Regular 6 ft. leash for walking
Waste tote and bags for your walks outside your yard
Personalized collar-small should fit all size puppies, choose a color to match the leash
PoyPet Harness-sm. for minis, med. for mediums, lg. for standards – a great harness for adult dogs!
Slicker brush – large – this is my all time favorite brush
Styptic Powder for if you accidentally clip the nail too short
Nail clippers – clip nails monthly
Metal comb – 7.25 inch – for use after the slicker brush to find matts forming
Matt Zapper – expensive, but worth it as this brush can help avoid a shave down
Potty bells are the quickest way for your puppy to learn to ask out
Fluffy Puppy tearless shampoo – my favorite!
Chew Deterant-a must have!
Ear Powder-for use after a bath to remove added moisture causing ear infections
Toothbrush-to keep plaque from forming,
Frontline Plus or Seresto Collars – for use from Easter to Thanksgiving unless you live where the weather is warm year round.
Escape proof harness. It isn't for young puppies, but comes in handy for walks with puppies that are a little older, and of course adults. I love mine!
Trash cans need a lid to keep puppies out!
Travel carrier for planes and cars- large for all size puppies. Many colors are available.
Xpens for outdoors or for kitchen use when you can't 100% supervise play time. Get a 36″ as most puppies can climb out of a 24″ by 10 weeks of age.
Harness that works with your seat belt and is recommended for all car rides. Buy a small.
A variety of safe toys, alternate which ones you put in the crate so your puppy is always occupied.
Nicer crates and gates to blend better with your furniture
Sprayers that hook to faucets make bath time easier
For use during light supervision such as in the kitchen while you cook dinner. A puppy should not be left in an xpen completely unsupervised. I would recommend a 36″ tall one for minis and larger and a 24″ one for petites and micro petites.

This is a much better option than the elizabethan collar your vet will sell you when your puppy is spayed or neutered. I would suggest you wait to purchase one until you have scheduled the surgery so you know what size you need.
Snuggle Puppies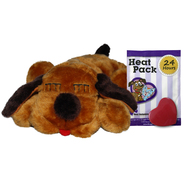 Snuggle Puppies help to comfort your puppy during the transition of being part of a litter to being an individual puppy.  Snuggle Puppies have a heat pack and a heart beat that mimicks a real littermate and will help your puppy sleep better during this transition.  Place the Snuggle Puppy in the crate with your new puppy at night and hopefully everyone will have an easier time settling in to this new stage of life.
Fox Creek Farm keeps an inventory of Snuggle Puppies.  You can pick one up with your puppy or one can  be shipped to you.  Fox Creek Farm does not make any profits from the sale of Snuggle Puppies.  All proceeds go to the Humane Society of Morgan County, our local no-kill shelter that operates completely on donations.  If you would like to order a Snuggle Puppy to help your puppy during its transition to its new home, please make your check payable to HSMC.  You can bring your check with you when you come to pick up your real puppy or you can mail it to me at Fox Creek Farm, 780 Shanghai Road, Berkeley Springs, WV  25411 with mailing instructions.  If you are picking up your Snuggle Puppy when you come for your puppy, the price is $40.  If you wish to have your Snuggle Puppy mailed to you, the price is $48 to cover the postage.  If you are using our delivery service for your puppy, the Snuggle puppy will be delivered as well so no postage needs to be added to the cost. Please email me to place your order so I can be sure I have one waiting for you.