After breeding standard size Goldendoodles and hearing so many times that it was the perfect dog, we decided to experiment with the hope of creating a smaller Goldendoodle to accommodate those families that wanted a smaller version. So many families were trying to avoid shedding coats and the Goldendoodle was proving to fill that need. We didn't own a mini or toy Poodle at the time, so we found a wonderful little purebred Poodle that was available for stud service. We started this venture with a mini Poodle instead of a toy Poodle as we felt that was the best step in downsizing to achieve the mini Goldendoodle dog breed. Our goal was to create adult Goldendoodles with the average weight of about 35 lb. Our first litter arrived on January 11, 2002 providing us with 5 males and 5 females, all with wavy coats. This litter was an F1 litter, but was the beginning of the many future generations of Goldendoodles and the foundation for the multigen Goldendoodle. Fox Creek Farm retained two of the females in this litter for future development of the mini Goldendoodle breed. Pebbles whelped the first litter of F1B mini Goldendoodles in 2003. We still have dogs in our breeding program that trace all the way back to Pebbles as documented in the GANA database.
You can view photos of the entire litter below and some feedback provided by each family who raised one of these little teddy bears. Fox Creek Farm followed each and every puppy throughout its life to learn about temperaments, health, trainability, coat care, and longevity. We made some lifelong friends with these families who had trusted us to provide them with a puppy unlike any other breed they had met before. Not only were the reports always positive, just about every family has since come back for one or more mini Goldendoodles from Fox Creek Farm. The longevity was something we hadn't quite expected. The first of this litter to pass of old age lived to be 12.5 years. The last of the litter to pass was just a month shy of 17 years. On average, the mini Goldendoodles in this litter lived to be 15 years of age. We found this to be in part due to the hybrid vigor and in part due to the health testing certifications performed on the parents. This proves the importance of health testing dogs before they are bred.
Meet the world's first litter of F1 mini Goldendoodles born 1/11/02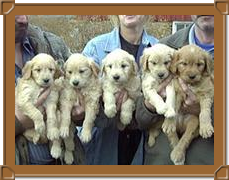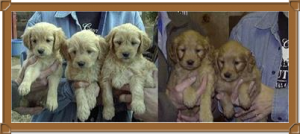 Triscuit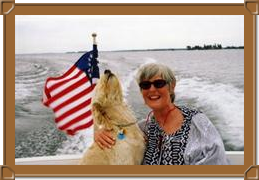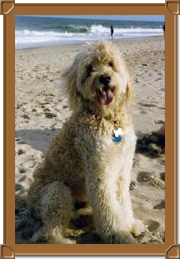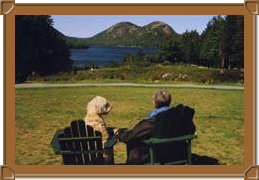 Triscuit is totally photogenic so it's hard to choose what photos to send! Listen to me, do I sound like a proud Mama or not? Amy, Triscuit has been a total joy in our lives. When my first beloved dog died (a Bichon Frise named Willie), I didn't think I could ever love another dog as much. Then along came Triscuit. His "forever-puppy" personality warms our hearts and lives, and we are eternally grateful to you for putting Honey and Tarzan together, so to speak! It's hard to believe the litter is 9 years old – stop the clock! Triscuit, John and I look forward to a reunion with his siblings one day soon.
Blessings and love (and Triscuit says "Woof!), Ashby Thompson. Triscuit passed away on 11/12/16. I was so fortunate to have Triscuit come visit with me this past summer.
Harry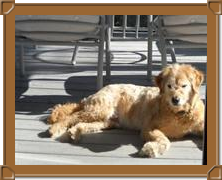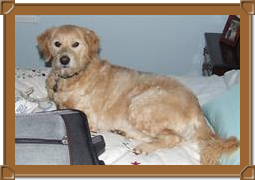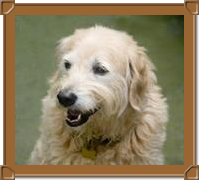 I can't believe Harry is 9. He is full of beans and the greatest dog I've ever had the privilege to call mine. Don't get me wrong – my youngest doodle Sadie is a wonderful dog as well, but there is just something about Harry. He is an old soul, a great companion, full of life and loves everyone. He and Sadie are fabulous together and they both love (in Sadie's case a bit too enthusiastically perhaps) our cat Lulu. People who don't know him are amazed that Harry isn't a puppy – he was and is a joy and I am forever grateful that whoever was supposed to get Harry decided to drop out – their loss and my gain. Cheers… Charlotte McKim
(The McKim family has a second Goldendoodle, Sadie, from Fox Creek Farm).
Harry is the first of this litter that has passed away at the age of 12.5 on 6/27/14. Rest in peace my friend.
Nelson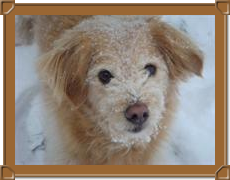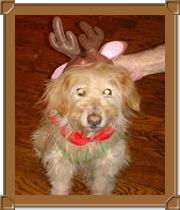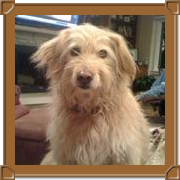 Nelson is such a great dog. She is always HAPPY! Her collar has smiley faces on it because it so fits her personality. To her everyday is a good day! She loves everyone. She thinks they all love her as much as we do!! She loves to swim, play in the snow, take walks, and sleep on laps. We love her so much! Hard to believe they are 9 yrs old. I am so glad to hear that her siblings are healthy and doing well. Liz Dunsmore (The Dunsmore family now has two Goldendoodles from Fox Creek Farm!) Nelson passed away on 11/19/18 at 16 years 10 months of age. She was the runt of the litter, so proof that runts are healthy dogs!
Buddy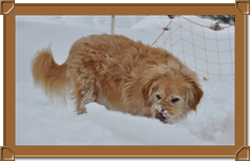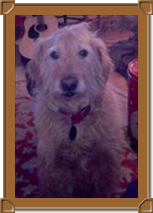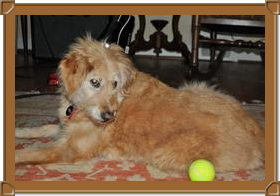 Buddy is a treasured member of our family. We like to say that he was born a gentle "old soul" because of the way that he communicates with his eyes and the fact that he seems to read all of our thoughts. He still plays like a puppy, he loves the snow, playing fetch, and a good romp in the surf at the beach. Everyone who meets Buddy falls in love with him and he is known town wide as he spends hours siting in our driveway, butt to butt with our other dog, Scout, watching the cars go by. Golden fur aside, we swear that he is part human. Patricia Roscow Bonsignore
Buddy passed away in August, 2014 at 12.5 years of age. His family misses him dearly.
Libby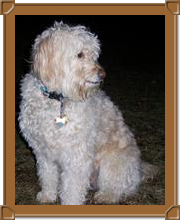 Libby is a happy and healthy 9 year old, snoozing right next to me as I type. She is still as spry as ever, playing with all of the puppies on campus, people are amazed she's not one of them! Amy Foster
Libby passed away on 4/10/18 at the age of 16 years, 3 months.
Roxi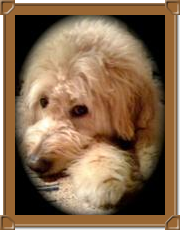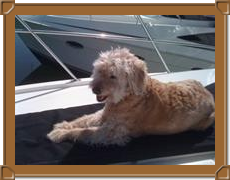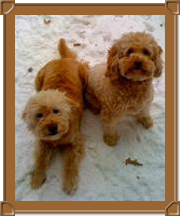 My Doodles are awesome!!! Roxi & Yogi are everything you would possibly want from a family dog plus much more. They are healthy, happy, and full of energy. Barbara Harris Roxi passed over the rainbow bridge on 11/29/17 a few weeks shy of 16 years of age.
Rusty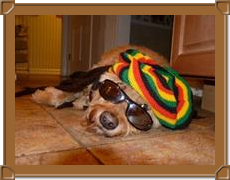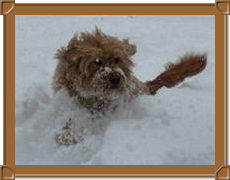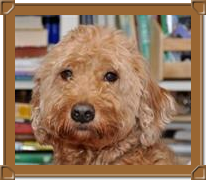 Rusty is still a great dog, mellow and friendly to all! He is very tolerant of his crazy family, who still like to dress him up! He still loves to eat anything he can and likes to play in the snow. I am sad that he is already 9 years old! He still acts young, in his usual lazy manner! I'm glad to hear all his brothers and sisters are doing well and can't wait to see the updated photos. Thanks so much for keeping in touch. Elyse Zucker
Rusty passed away on 11/17/15.
Casey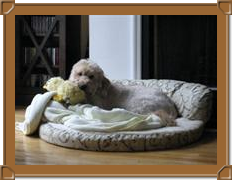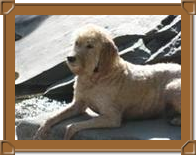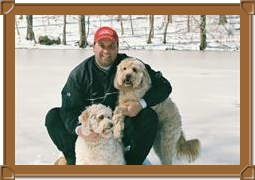 A few words about Casey: He is very lovable and compassionate. He enjoys hiking though all seasons and is a great trailblazer leading the pack with his nose to the ground, stopping at any fork in the trail to be told which direction to continue in. He is a great "big brother" for his adopted sister Darby. Although timid at times, he let's her know who's boss when he feels like it…The picture of Casey and the Duck was necessary because ever since he was a puppy that Duck has been his favorite toy (although replaced many times over the years). If I spread out all of their toys around the room and ask "Casey, where's your Duck" he will seek it out. Many times he will fall asleep with it under his paw. Casey has some funny and entertaining quirks that make me laugh out loud. He loves digging in the sand at beaches and on every July 4th he hides in the bathtub during the fireworks as loud noises scare him. Truly both dogs are "a mans best friend". Gene Chyzowych (Gene now has two FCF Goldendoodles)
Casey passed away on 5/3/16.
Pebbles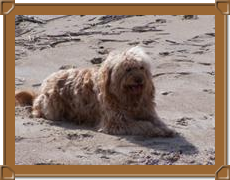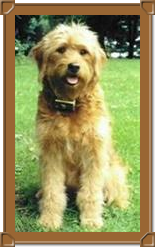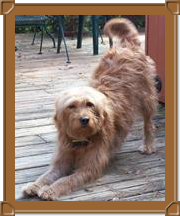 I have lots of dogs being a breeder. However, there is only one "Pebbles". She produced 3 litters before retiring from breeding. She is my constant companion and seems to read my mind. All the other dogs have learned that when Pebbles says it is time for a bath, they have to drop whatever they are doing and let her clean their eyes and ears. She was a "volunteer" blood donor for five years donating every 7 weeks. She is my daily walking companion and foot warmer:) Pebbles crossed the rainbow bridge on 12/8/17 just shy of 15 years and 11 months.
Lucy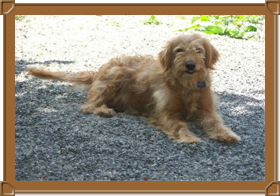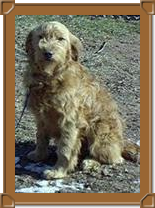 Lucy produced many wonderful litters for Fox Creek Farm. She is the mother of Chester, one of Fox Creek Farms fabulous studs. She is living out her retirement with Debra Wachter. Lucy outlived all her brothers and sisters. She joined them all for a romp in the skies in early December, 2018 just a month shy of 17 years.