Best Mini Goldendoodle Breeder in the United States
Goldendoodles are becoming very popular for obvious reasons. They are adorable, can be hypoallergenic, and are very intelligent. 
Unsurprisingly, mini Goldendoodles are also one of the best breeds to own. Mini Goldendoodles exhibit an apartment-friendly size, prove easier for older individuals to handle, and maintain their adorable little teddy bear appearance throughout adulthood.
Mini Goldendoodles have a wide range of coat colors. The most common coat colors are the golden/apricot and blonde/cream solid-colored coats. Other solid colors include red, black, brown/chocolate, white, and gray/silver. These colors can also come in abstract or tuxedo, which means white is typically on the chest, face, and paws. Goldendoodles can display a tri-colored black, brown, and white coat similar to a Bernese Mountain Dog and merle and phantom. 
Goldendoodles have beautiful coats that come in 3 types: straight, wavy, or curly. Goldendoodles' coat types can differ based on their generation type (which refers to their ancestry), but even more importantly, the coat type genes carried by each parent.
The Goldendoodle is available in several different generations. Each generation has its attributes. If the coat type or the amount of shedding is an essential factor in your decision, then learning about the generations is important. You can find the specifics here.
Due to miniature Goldendoodles' rise in popularity, many Goldendoodle puppies are for sale from puppy mills and backyard breeders. By buying from disreputable breeders such as these, you risk receiving a puppy with other breeds mixed in and health issues from the lack of appropriate health screening of the parent dogs. It is also essential to understand that an inexperienced or unscrupulous breeder may provide you with a puppy that grows much different size than you requested.
Finding a good breeder may take some research, but the time spent upfront will pay off when you receive a healthy, socialized, well-bred puppy. Below are some things that will assist you in locating the best mini Goldendoodle breeder in the United States.

What Makes a Good Mini Goldendoodle Breeder?
Memberships: Good Goldendoodle breeders will be members of prominent clubs and committees such as GANA, the 

Goldendoodle Association of North America.

Experience: Reputable Mini Goldendoodle breeders will have Google reviews and testimonials that you can reference before making the initial contact with the breeder. Additionally, a breeder should exhibit lots of knowledge about the breed, how to train puppies and offer support before, during, and after the sale. Good breeders will be advised on the best products to prepare for a puppy. The breeder will also stay informed about current and best breeding practices and strive to improve the breed with each generation.

Quality Care: Good breeders will provide a clean and safe environment for their dogs and puppies. This includes appropriate housing, regular veterinary care, proper nutrition, and socialization to ensure the puppies grow up in a healthy and well-adjusted manner.

Health Screenings: Concerned breeders will run health screenings on all of their breeding dogs. These health certifications should be provided upon request and should include physical and DNA health results. Any failed physical tests should be cause to spay or neuter the dog and never use it for breeding.

Focus on temperament: Good mini Goldendoodle breeders' top priorities will be matching a pup to a family based on their health and temperament, not their color or aesthetic traits. If a breeder's main focus is matching you to the color you want, it should be a red flag. For example, some pups may be best for an experienced dog owner or a home without children. Allowing the aesthetic traits to be the basis for choice may not give the temperament traits the priority necessary to create the perfect pairing of puppy and family. 

Not a Puppy Mill: A puppy mill's main goal is to pump out as many puppies as possible, focusing on profits instead of the wellbeing of the puppies. Puppy mills do not perform genetic testing, which can result in entire litters being born with diseases. Additionally, puppy mills often subject puppies to substandard living conditions. It is common practice for puppies produced in these situations to lack socialization. You must learn to spot many red flags to avoid perpetuating the success of a puppy mill. Remember, you are not rescuing that neglected puppy from a puppy mill. Instead, you are making it possible for that puppy mill to flourish and remain in business.

Enrichment Protocols: These protocols ensure that puppies get play time, appropriate toys, and socialization. Excellent Goldendoodle breeders will expose puppies to crate training and teach the pups to sit on command before heading to their forever home. These enrichment protocols ensure that pups will get the right start in life by having them participate in frequent, short activity sessions. Puppies should leave a breeder confident about the world and ready to transition to their new home. 

Early Neurological Stimulation (ESN): This stimulation includes performing a set of exercises with the pups each day between the ages of 3-16 days. These 5 exercises include stimulating their toes, holding their heads in certain directions, etc. Providing these exercises improves cardiovascular performance and allows for more tolerance to stress. The benefits ESN provides last throughout the life of the puppies.

Responsiveness and Support: Reputable breeders should be responsive to inquiries and willing to answer questions about their breeding program and the Goldendoodle breed. They offer ongoing support to puppy buyers and may provide resources, guidance, or even take back a dog if necessary. If a breeder lacks responsiveness prior to the sale, there will likely be even less responsiveness after the sale.
How Much Should a Goldendoodle Cost?
The cost of Goldendoodles vary based on the size, age, generation, health testing, and the breeder's health guarantee. In general, a Goldendoodle puppy from a reputable breeder will typically cost between $3000 and $5000. Puppies below this price range are usually from breeders that do little to no health screening on the parents and offer no health guarantee. It is always best to make an upfront investment in a healthy puppy versus paying a bargain price that leads to heartbreak and vet expenses down the road.
However, the initial cost is one of many costs to consider. There will be expenses for vet visits, vaccinations, spaying or neutering, pet health insurance, and purchasing food, toys, and supplies. It is calculated that a budget of $1,000-$2,000 per year for a dog is necessary. If insurance isn't purchased, this amount can easily double or triple with a single accidental injury which is quite possible while puppies are experimenting with new physical activities or simply eating something they shouldn't.
Why is Fox Creek Farm the Best Mini Goldendoodle Breeder?
Amy Lane of Fox Creek Farm was the first breeder to create a litter of miniature Goldendoodles and one of the founding Goldendoodle breeders. Located in Berkeley Springs, West Virginia, Fox Creek Farm focuses on raising healthy multigen Goldendoodles that are perfect for families with kids.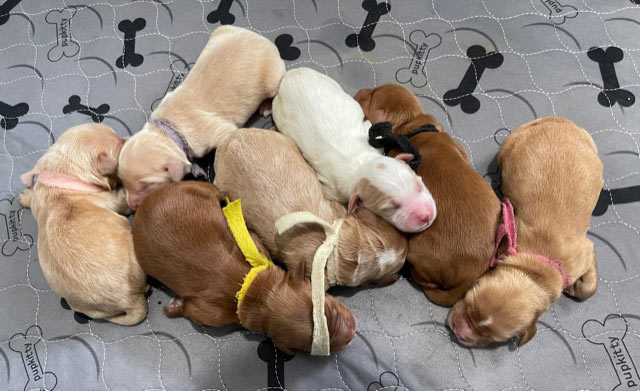 Fox Creek Farm's experience is difficult to mirror as they have led the development of the Goldendoodle as a breed. They have mentored countless other breeders and provided foundation breeding stock to their peers. They have developed sound protocols for preparing families for the arrival of their new Goldendoodle puppy. Here is a list of benefits when working with Fox Creek Farm:
They only breed multigenerational dogs (Goldendoodle to Goldendoodle, rather than a Poodle with a Golden Retriever) due to their higher non-shed success rate.

They allocate puppies to families based on temperament and size to ensure compatibility.

All puppies stay until 8 weeks of age and are current with dewormings, their first round of vaccinations, and a vet check.

All puppies are microchipped to provide your dog with the best chance of being identified and returned to you in case of loss or theft.

Puppies learn how to use a doggie door at 4 weeks of age and are going potty outside by 5 weeks of age.

Crate training is started at 4 weeks of age to make the crate a positive experience with their littermates. 

Puppies are taught to "Sit" at 6 weeks of age.

Dewclaws are left intact. Dewclaws used to be removed because there were beliefs that this fifth toe posed an injury threat. However, it has since been learned that the dewclaws have a benefit and are, therefore, no longer removed.

All prospective breeding dogs are tested and certified clear for issues of the hips, eyes, elbows, patellas, and heart defects. Additionally, DNA testing for diseases prevalent in Goldendoodles is performed.

Fox Creek Farm is a proud blue ribbon level breeder with the 

Goldendoodle Association of North America (GANA)

, which is an organization for Goldendoodle enthusiasts, both breeders and pet owners, to support responsible breeding and pet ownership.

All breeding lines originate from American Kennel Club (AKC) registered purebreds. AKC is the nation's oldest, largest, and most esteemed purebred dog registry.

Fox Creek Farms can deliver puppies by car to many surrounding states, including but not limited to West Virginia, Virginia, Washington DC, Pennsylvania, Maryland, New Jersey, New York, and Delaware.

Puppies are raised with an enrichment program known as Puppy Culture. Some things included in this program are age-appropriate games and exercises, handling fear periods, puzzles and problem-solving, and early socialization.

Countless 

testimonials

 can be found on the website to show the integrity in which puppies are raised.

Fox Creek Farms uses Dr. Battaglia's Early Neurological Stimulation (ENS) protocols on the puppies from day 3-16 of their lives. This allows the pups to have stronger heartbeats, more tolerance to stress, greater resistance to disease, and more advanced problem-solving skills.

They offer 

recommendations

 on food, dog training, toys, and other supplies so that your puppy can have a smooth transition to your home.

A proven record number of Fox Creek Farm Goldendoodles have become 

service dogs or therapy dogs

. This shows they prioritize a Goldendoodle's temperament and soundness. Additionally, it shows that proper socialization and training of puppies at a young age result in exceptional dogs who excel as working dogs.

All puppies leave with a minimum of a 2-year genetic defect warranty.  
Conclusion
Goldendoodles are amazing, smart, and sociable dogs, so it isn't surprising that they're growing in popularity. However, it's extremely important to make sure you're using a reputable breeder in your quest to find your perfect pup. Don't get caught falling for a photo of a cute little puppy that comes from a puppy mill or a backyard breeder. You owe it to yourself and your family to do your homework before bringing home an adorable puppy that will wrap you around its little paw.  
In summary, there are a lot of mini Goldendoodle breeders from which to choose, but it's important to do your research about the breeder, health of the parent dogs, health warranty, and enrichment protocols.