Training Goldendoodles: A Guide For Your Puppy's First Year
With sufficient knowledge, you can raise a good and obedient puppy by yourself. Training Goldendoodles isn't difficult because they are so intelligent, it just takes time and knowledge of proper training techniques for puppies. Learn how to train your Goldendoodle puppy with our beginner's guide. Goldendoodles have a great desire to please. Teaching them what it takes to please you sets them up for happiness. In this blog, we are going to cover how to train your Goldendoodle puppy.
A Trained Puppy is a Happy Puppy
Goldendoodles are great family pets when trained from a young age. Having a well-trained dog around is appreciated by all other humans that encounter your dog as well. The training you administer to your puppy will pay off in spades as he continues to use the skills you have taught to please you and your guests throughout life.
A dog that is constantly scolded or that is gated away from family and guests because he can't be trusted to behave always creates tension within the home. Being isolated and not included in family activities will cause stress, anxiety, and overactive behavior to become the norm for the untrained dog.
Develop the Right Relationship with Your Pup
Your puppy needs to know where he stands with you. Are you a pushover? Do you give in and reward inappropriate behavior? Do you scold without giving direction on what you want to see in place of that behavior? Without giving consistent queues, you will easily confuse a young puppy or even an adult dog. You must dedicate yourself to always rewarding good behavior and redirecting unwanted behavior.
While it is easy to forgive a puppy for exhibiting their love in a rambunctious way, you are doing the little fellow a disservice by not expecting good behavior always. Once he is an adult, you will look back and wish you had curbed that undesirable behavior when he was a small puppy. You also need to help the children in the home to understand how and why they should not promote undesirable behaviors as well.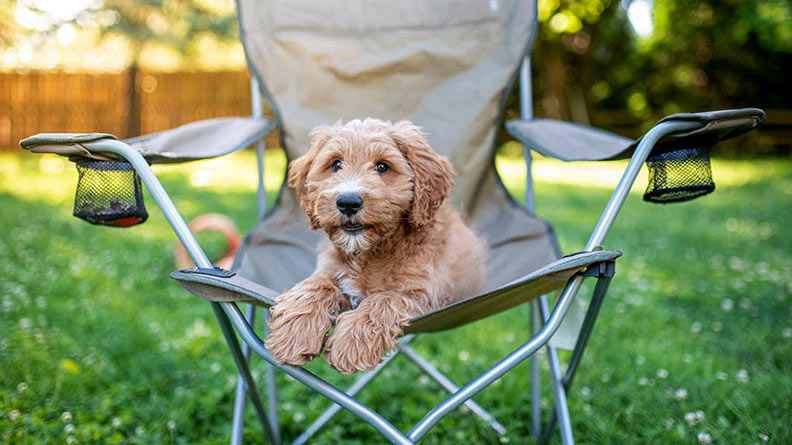 Are Goldendoodles Easy to Train?
A hybrid with Golden Retriever and Poodle genes, Goldendoodles are always fast learners and easy to train. Golden Retrievers are, by nature, extremely loyal dogs and are always eager to make their owners happy. They tend to have a happy demeanor whereas Poodles tend to have a more sophisticated air about them. While all dogs can learn, some dogs have shorter attention spans than others. Training in a busy home with loud and active children can affect the attention span too. Make sure in the beginning to work on commands with no distractions like other dogs, traffic, children, or wildlife.
The Best Time to Train Your Puppy
You should start training the moment your new puppy comes home. Setting expectations is vital in establishing the groundwork before you begin your dog training. It is always best to start with a clean slate vs. correcting bad habits you have allowed to develop due to leniency or lack of direction. Set boundaries such as no jumping from day one.
Take advantage of this innocent period where you have no bad habits that have been set. Obedience training is essential to living a harmonious life with your dog and the amount of time it takes to train a good behavior will take less than half the time it will take to change a bad behavior. Because puppies have a short attention span, training sessions should be only 5-10 minutes in length but can be repeated once an hour.
Positive Reinforcement
Using positive reinforcement convinces your puppy that behaving accordingly or following instructions will merit them a reward in the form of food, verbal praise, or petting. While it is easier to instill fear in your puppy or punish them for inappropriate behavior, this method will never result in consistent positive behavior. A dog that behaves out of fear will eventually retaliate. Positive reinforcement training provides your puppy with an incentive to behave correctly.
A treat will keep them seated quietly even when they are overly excited to meet your guests. Once a command is mastered, the food rewards can be rotated with pets or positive words each time the command is successfully followed. Over time, they will need fewer and fewer food rewards and be happy to oblige for a simple pat on the head or verbal praise.
One of the best ways to positively reinforce your puppy's good behavior is through clicker training. Clicker training is considered a positive reinforcement method aimed at marking desirable behavior and rewarding it through a "click" and then an immediate food reward. The timing is critical so that the puppy associates not only the click but also the reward as a positive reaction to their behavior. A clicker helps your puppy identify the very instant that they are doing what you want them to do making their learning process quicker.
On the other hand, shock training is one of the most detrimental training methods you can utilize on your Goldendoodle puppy. This is a training method that makes use of punishment through the use of shock collars which subjects your puppy to pain as a result of unwanted behavior. This method may result in aggression or fear-based behavior.
Overall, when training your Goldendoodle puppy, we discourage using fear and pain to train your pup; aside from being cruel, it doesn't lead to any desirable behavior, and you might find yourself with a very aggressive dog. We advise you to give them positive reinforcements and train them with love and care. It is always best for your puppy to want to please you rather than to be afraid to displease you.
Training Basics
We love dogs who can perform a fun trick, but learning the basics of obedience first is important. Before we ask them to roll over, sit up on their haunches, or heal without a leash, it is crucial that they first learn the basics. You have to ensure they have already mastered the basic commands of sit, down, stay, and place as they will be the building blocks for all other commands. Some people choose to send their puppy to board and training, to get a jump start from a professional. This is important for owners that don't know as much about training puppies.
Dog Socialization
Dogs are very sociable and Goldendoodles are one of the friendliest breeds. Taking them out to dog parks or the mall or just letting them interact with your family members or other dogs helps them learn how to handle themselves around unfamiliar people or pets. Little by little, through guided socialization, they will learn not to be rattled by unexpected circumstances or guests.
Keep in mind that until a puppy is fully vaccinated, he needs to avoid exposure to areas of high traffic of other dogs. Therefore, until the puppy reaches 16 weeks of age (the age of full vaccination), he needs to play only with other fully vaccinated dogs in areas such as your backyard. Carrying them in public places such as Home Depot and Tractor Supply will allow safe exposure. Your Goldendoodle puppy must meet as many as 100 new people a week.
Potty Training
It is essential to invest time and energy during your puppy's first few weeks at home to have a successful training period. Be consistent, and tolerant, and offer positive reinforcement when necessary. The time and effort you put in now will pay off in the long run.
It is beneficial to purchase a crate for your puppy and use it when you are not able to directly observe him. Doing so will give him a safe and secure place to stay and will also help in the housetraining process, as dogs have an instinct not to soil their sleeping area. The crate will teach your pup to control their urge to eliminate until the appropriate time.
Establish a schedule and don't deviate from it. It is important to ensure that everyone in the family follows the same rules for potty training a pup. Find an area in the yard that the pup can use as their designated elimination spot and take them there on a leash when it is time to go. The smell of this spot will act as a reminder to the pup that this is where they should go to do their business. In the housebreaking process, it is a good idea to use the same word like "outside" when you are going out and "go potty" once you are outside. Developing a consistent verbal cue during the toileting process will help to create a language between you and your canine companion. Have patience as your dog may need multiple attempts to go and may not always do so immediately. Focus on the task at hand, not on socialization. Reward them with positive reinforcement when they have completed the job.
Don't mix business with pleasure. Once your puppy has completed their business, bring them inside to enjoy some quality time. As they don't need to go out again for a while, have fun and play with them. Spending lots of time with them when they're young is beneficial, as they're still adapting to their new circumstances. When you've finished playing, take one final trip outdoors and put them back in their crate.
Dogs are creatures of habit; they like to eat, sleep, and relieve themselves on a regular schedule. Creating a consistent routine for your puppy can be a simple process and it will become more straightforward as they age. Monitor your pup's actions so that you can come up with a plan that works for both of you. Take note of when your pup usually does their business, such as in the morning, evening, or after meals, and then adjust your schedule accordingly to accommodate these needs.
When you observe your puppy having an accident, firmly tell him "No!" and carry him outside. In case you miss it, just tidy up the area and acknowledge your unavailability. Avoid reprimanding the puppy. Keep a close eye on him when he's inside and take him outside regularly. As soon as you notice him behaving restlessly, sniffing around, circling, or attempting to leave unnoticed, immediately pick him up and take him outside, as these are clear indications that he needs to eliminate.
Crate Training
Your Goldendoodle puppy should be placed in the crate during any unsupervised time. When your puppy is 8 weeks old, it should be treated like a one-year-old human toddler. To ensure their safety, they should not be allowed to roam freely around the house or be left unsupervised for any length of time. If an accident does occur, avoid scolding the pup and instead reprimand yourself, as the puppy only learns if the reprimand is given at the time of the accident. Each accident is a setback in the training process and should be avoided.
A puppy should not be allowed access to the floor unless it has gone potty outside within the last 45 minutes. This will help to avoid accidents. If the playtime reaches an hour, the puppy should be taken outside to potty again. In the crate, the limit is 3 hours, but outside the crate, the limit is one hour. Every month, the crate time limit can be increased by one hour.
Why Food Rewards are Important
Dogs love to eat and Goldendoodles are no different. Food is an easy motivation for our furry friends to follow commands and instructions and works wonders when associated with a command or routine you want them to remember.
There are a lot of appropriate food rewards to choose from, including but not limited to the following:
· Cheerios (plain)
· Raw cut-up carrots
· Pieces of their mealtime kibble
· Freeze-dried raw treats
When using food for training, you do need to be sure not to overfeed your puppy. Rich treats like liver or hotdog bits can cause stomach issues and should be used only in very small quantities.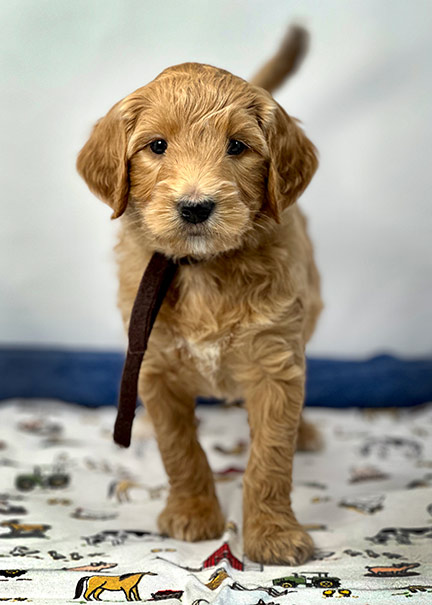 Routine for your Goldendoodle
We've mentioned how important it is to be consistent with your training regiment and methods. This consistency is equally important with a puppy's daily schedule. A properly carried-out routine is the most consistent form of puppy training you can provide. From meal times, bathroom breaks, and playtime to naps and bedtime, a structured list of activities will give your Goldendoodle a rhythm that they will grow to expect. Feeding your puppy around the same time daily also gives you consistent potty time.
Professional Trainers Are Always an Option
Not all dog owners have the time to train their puppies personally. Although this could be a rewarding experience, some of us may be too busy with work or other matters that may not allow consistency which is very important for retention and behavior formation. You can always hire a professional trainer for cases like this to take care of your puppy's training.
Some trainers will do board and train which means they keep your puppy for a designated amount of time to work one on one with your puppy to teach housebreaking and basic commands. Others will work with you and your puppy together which involves you in the process and this is typically a one-a-day-a-week lesson. This is typically the best type of assisted training as you will be "trained" along with your puppy to ensure you continue with the same methods and commands to avoid confusing your puppy.
In summary, Goldendoodles are great dogs, but they are the best when they are properly trained. If you emphasize their training from puppyhood on, you will be assured a polite, mannerly adult dog that is enjoyed by the family members and all others that come in contact with your Goldendoodle.