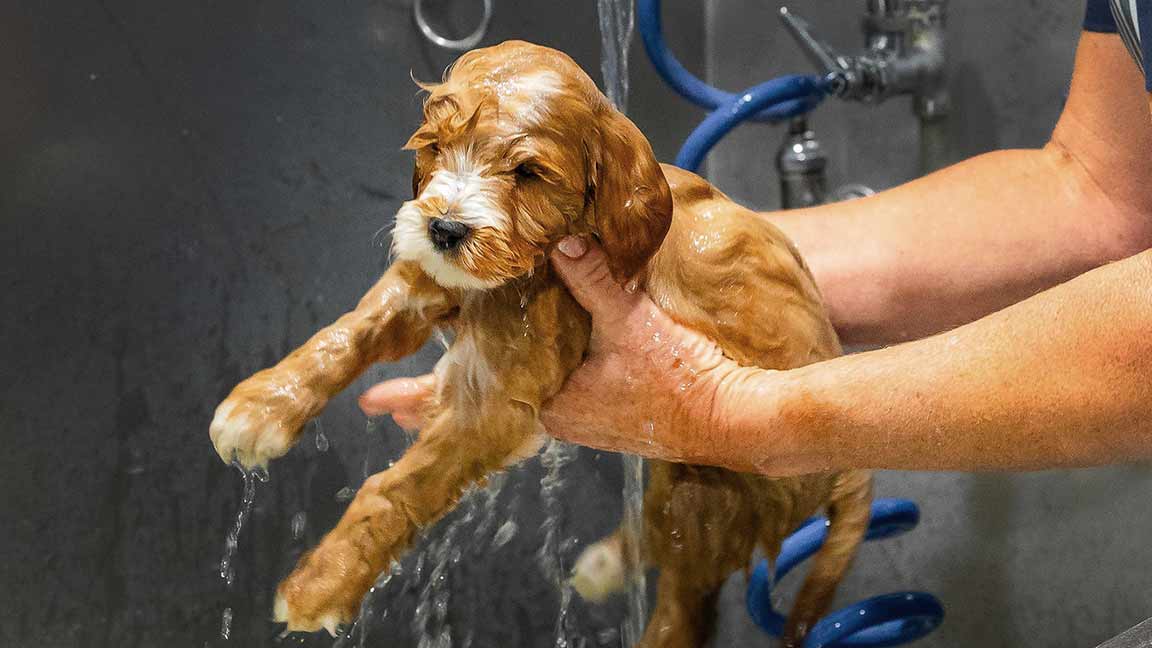 What is the Best Shampoo for Goldendoodles?
Grooming your Goldendoodle can seem like a chore (and sometimes it is!), but if you find the right products and get into a good routine, it can be enjoyable. It is like a little spa day for your dog. 
Finding the right shampoo for your Doodle can be difficult, especially since they have coats that are so prone to tangling. Finding a good shampoo will make the rest of your grooming routine smoother. Goldendoodles have such soft and beautiful coats, so keeping their coats clean and silky is important. 
Goldendoodles require regular grooming, so creating a stress-free grooming routine will make your life much easier. Of course, daily brushing is important, but bathing can take place less often, typically every two to four weeks. Below are some puppy and adult dog shampoo suggestions, types of shampoos you may want to consider, ingredients to avoid, grooming tips, and much more!
Goldendoodle Puppy Shampoo:
Pros:
Contains soy protein to strengthen coats & condition skins

This shampoo formula is formula is pH-balanced, soap-free & paraben-free

Rinses out easily
Cons:
Some users complain the clean scent does not last long
This shampoo is pH-balanced, alcohol-free, paraben-free, and PEG-80-free

Aloe is a soothing, calming ingredients, which will help your puppy's irritated, sensitive skin

You do not have to use as much as with other shampoos

This shampoo is allergy-friendly for most dogs!
Cons:
Contains sulfates

Some users have reported their dog itches a lot after using this product.
Pros:
This shampoo includes buttermilk, which soothes skin and softens hair, and linseed oil, which deeply conditions your puppy's coat

This shampoo formula is free of fragrances, sulfates, colorants, and harsh chemicals

pH balanced for dogs and puppies of all ages
Cons:
Customers have complained that it does not lather very well.

Customers have complained that the scent is not very strong.
Pros: 
This pet shampoo uses rosemary, aloe vera extract, and chamomile to soothe and moisturize your pup's skin

This formula does not include dyes, drying alcohols, parabens, or phosphates

Many customers say this product is amazing for dogs with dry, itchy skin
Cons:
Customers complained that the product did not make their dog smell good after use.

Some dogs experience allergies due to this product.

Adult Dog Shampoo
Pros:
Cleanses and moisturizes your pup simultaneously

Contains Nano-Encapsulated Vitamins A, D, and E

pH balanced for dogs

Sulfate, paraben, cruelty, and tear-free
Cons: 
Pros: 
This shampoo uses Moroccan Argan Oil to deeply nourish the coat. This ingredient reduces dryness and prevents damage to hair. 

This product is amazing at moisturizing dogs' fur and skin

Customers state their puppy smells amazing after a bath with this shampoo
Cons:
Customers state this product is very thick and difficult to lather
Pros:
This pet shampoo uses silk and enriching vitamins to help restore moisture to your dog's coat.

Paraben and sulfate-free

pH balanced for dogs

Uses coconut oil to lock in hydration
Cons:
Some dogs experienced allergic reactions after using this shampoo
Pros:
This shampoo utilizes Oatmeal and Aloe, two very soothing ingredients

This shampoo is perfect for relieving your dog's itchy, dry skin

pH balanced for dogs

No DEA, parabens, synthetic dyes, sulfates, or phthalates are included in this shampoo 

This shampoo is animal cruelty-free
Cons:
Some dogs experienced an allergic reaction to this product

Some customers complained that the scent was not long-lasting
All Dogs are Different
You may notice that some of these shampoos may not work for your dog. This is because all dogs have different coat types regardless of their generation, skin sensitivity levels, allergies, etc. 
Some Doodles have super curly coats, resembling a Poodle. Some have more wavy coats. Some may have straight coats. Their coat type does play a major role in what shampoo will work best for them. 

Types of Shampoos to Look For:
Although all Goldendoodle coats are a little bit different, the Goldendoodle breed has some consistencies in terms of coat type and needs. Many Goldendoodle owners go for similar kinds of shampoos, which are listed below. 
All-Natural Shampoos: Natural ingredients can be a lot gentler on your pup's coat and skin. Since it is common for Doodles to have sensitive skin, using natural ingredients can be a smart choice for your Goldendoodle. 

Soothing Shampoos: For dogs that frequently have skin irritation, soothing shampoos may be your best bet, as they offer itch relief. Look for ingredients like oatmeal, aloe vera, and tea tree oil. These ingredients will help hydrate and relieve itchy, irritated skin. 

2-in-1 Shampoos: Dogs may become accustomed to bathing if they are introduced to it in a safe, comfortable environment. However, bathing typically is not their favorite thing. So, using 2-in-1 shampoo can make things quick, so that you do not have to use a dog shampoo and conditioner. This will keep your dog's and your stress levels to a minimum. Since Goldendoodles have such long, tangle-prone hair, sometimes there may not be enough detangling action in a 2-in-1 shampoo for them.

Flea and Tick Shampoos: This type of shampoo can be used either as a preventative in conjunction with natural flea and tick sprays.  Even if you are diligent about using preventative products, your dog can still get fleas or ticks. Additionally, using natural flea and tick shampoos is better than using chemical preventatives that can be harmful to dogs. 

Hypoallergenic Formulas: If your dog has sensitive skin, a hypoallergenic shampoo is your best bet. These shampoos are formulated to minimize the risk of allergic reactions.

Whitening Shampoo: If you have a white pet that tends to get discolored, a whitening shampoo can brighten up your Goldendoodle's hair, making them look pearly white. 

Deodorizing Sprays

: A nice option for making your Doodle smell good in between spa days. 
Ingredients You May Want to Avoid
Artificial colors and fragrances: Some dogs are sensitive to artificial colors and fragrances, leading to skin irritation or allergies. Look for products with natural or hypoallergenic fragrances. There is no need for artificial colors at all and there are a lot of natural ingredients, like chamomile, rosemary, and oatmeal, that can make your puppy smell good.

Parabens: Many people avoid parabens in their own shampoos, so you can imagine they are also bad in dog shampoo. Parabens have been linked to drying hair and skin, which is counterproductive for your pup.

Sulfates: Sulfates are an ingredient that makes shampoo super bubbly and easy to lather. However, they are known to strip the skin and coat of their natural oils. This will leave the coat and skin dry and unhealthy. 

Phthalates: Phthalates are chemicals used to make fragrances last longer. They can be harmful to dogs. Plus, super strong, unnatural fragrances can be irritating to your dog's skin and overwhelming to their sense of smell. Finding shampoos without this ingredient is a good idea to prevent irritation. 

Isopropyl alcohol: This ingredient can sometimes be found in pet care products. In a shampoo, it can be very drying to the pup's skin and coat.

Formaldehyde preservatives: Formaldehyde will be listed as either Bronopol, Diazolidinyl urea, Quaternium -15 or -31, or Sodium Hydroxymethylglycinate, and can cause burning, itching, blistering, or scaling of skin.

Do not use human shampoos on dogs: Human shampoos can create an environment where bacteria, parasites, and viruses can run rampant. The pH level of dogs is different from humans, so the dog's skin's acid mantle or pH level can become imbalanced. 
How Often Should You Bathe a Puppy?
Dogs should not be bathed more often than about every two weeks. This is because it can dry out their skin and coat. If your dog loves to go on adventures and get messy, pet wipes and waterless shampoo may become your new best friend. 
You can use cleansing wipes to clean your dog's muddy paws or snouts. If your dog is extra stinky, waterless shampoo can make them smell fresh and clean. Waterless shampoo works by applying the liquid to the dog coat then you massage it in and towel dry them to remove the dirt. It is certainly not as effective as bathing your dog, but it is hassle-free and will make your dog smell amazing.
Tips For Your Doggie Spa Day
Try to get your Doodle

comfortable with bathing

at a young age. Most

reputable breeders

will have bathed your puppy a few times before it comes to you at 8 weeks of age. Being exposed to situations that may be scary while young and in a safe environment will encourage your dog to be more tolerant of these situations when they get older.

Before you start bathing your dog, have your supplies on hand already. This may include dog shampoo, towels, a brush,

toothbrush

, and treats (for positive reinforcement)

If your dog is prone to ear infections or itchy ears, you may consider using cotton balls during bath time to protect their ears while you are bathing them. Always avoid getting water in their ears and use soft tissues to dab out any water if any accidently gets in the ear canal.

Brush your Doodle before you bathe them. This will remove their tangles and mats, making them extra soft and smooth after a spa day. You should brush your Goldendoodle daily, so this should not be an extra task before bathing.

Rinse your pup's face last. Usually, dogs do not like their faces being wet, so making that the last task can make bath time more enjoyable for them.

Rinse your pup's coat well so no remaining soap suds are left on their coat.

Typically, Goldendoodles have to be blow-dried after being bathed. This is because their thick coats take a long time to air dry allowing them to become chilled after winter time baths. This isn't as much of an issue in the

warmer seasons

, but avoiding blow drying allows them to shake water all over your house. Blow drying your dog will also allow you to prevent your dog from getting

tangled and dirty

right after a bath as wet dogs love to roll all over the ground to remove excess water. However, blow-drying your Doodle is not always an easy task. Sometimes dogs dislike being blow-dried, so they will squirm a lot or try to run away. Using a

Kong

filled with peanut butter or cream cheese can make this process a lot easier. Lick pads are a great option to distract them as well.  

You can use a pet detangling spray to help brush out those stubborn tangles. 

Give your Doodle breaks while grooming

if needed.
Hopefully, after reading this, bath time will seem much more manageable for you and your pup. Learning more about dog shampoos can help you keep your puppy's coat clean, moisturized, mat-free, and healthy. Once your Doodle is all clean and fresh, give them some pats and treats from me!